Let's be honest: the numbers look really, really bad for the future of journalism. A quarter of all American newspapers that existed fifteen years ago have died off. At least 1,800 communities that had a local paper in 2004 had lost it by 2020. Hedge funds are gobbling up the local papers that do exist and gutting them for a quick profit. And as we recover from a pandemic that has decimated local economies, the trend is only speeding up.
But there's hope. Across the country, student newspapers are incubating some serious investigative talent. Read the pages of high school newspapers around the country, and you'll find that the nation's future Woodward and Bernsteins are showing what a robust, student-powered free press can achieve.
Highschoolers are conducting groundbreaking investigations into sexual assault, drug abuse and faculty misconduct at schools across the country — improving their school communities while also bolstering local news ecosystems.
Take Cedar BluePrints, the student-run magazine of Cedar Shoals High School in Athens, GA. Staff writers discovered that Antwon Stephens, then a member of their school board, had lied about graduating from their school on his application for the seat. The reporters handled the issue with nuance and compassion, writing that although Stephens' is plagued with chronic health problems — he said childhood ailments forced him to unenroll before graduating — they were no excuse for misleading the community about his credentials.
After BluePrints broke the story, two other local papers started poking around the story too. Alocal alt-weekly, Flagpole, and University of Georgia's Red & Black reported that Stephens had falsified a campaign finance report. The students performed critical reporting on their own school, and in doing so, they galvanized the local press to strengthen all local media in Athens, too.
BluePrints demonstrated the power of local news organizations to pry back a community's secrets. Meanwhile, in San Jose, California, the Harker Aquila took a big-picture approach. The Harker School newspaper used big data to help its student body make sense of the coronavirus pandemic while most adults were busy baking sourdough bread and watching Tiger King.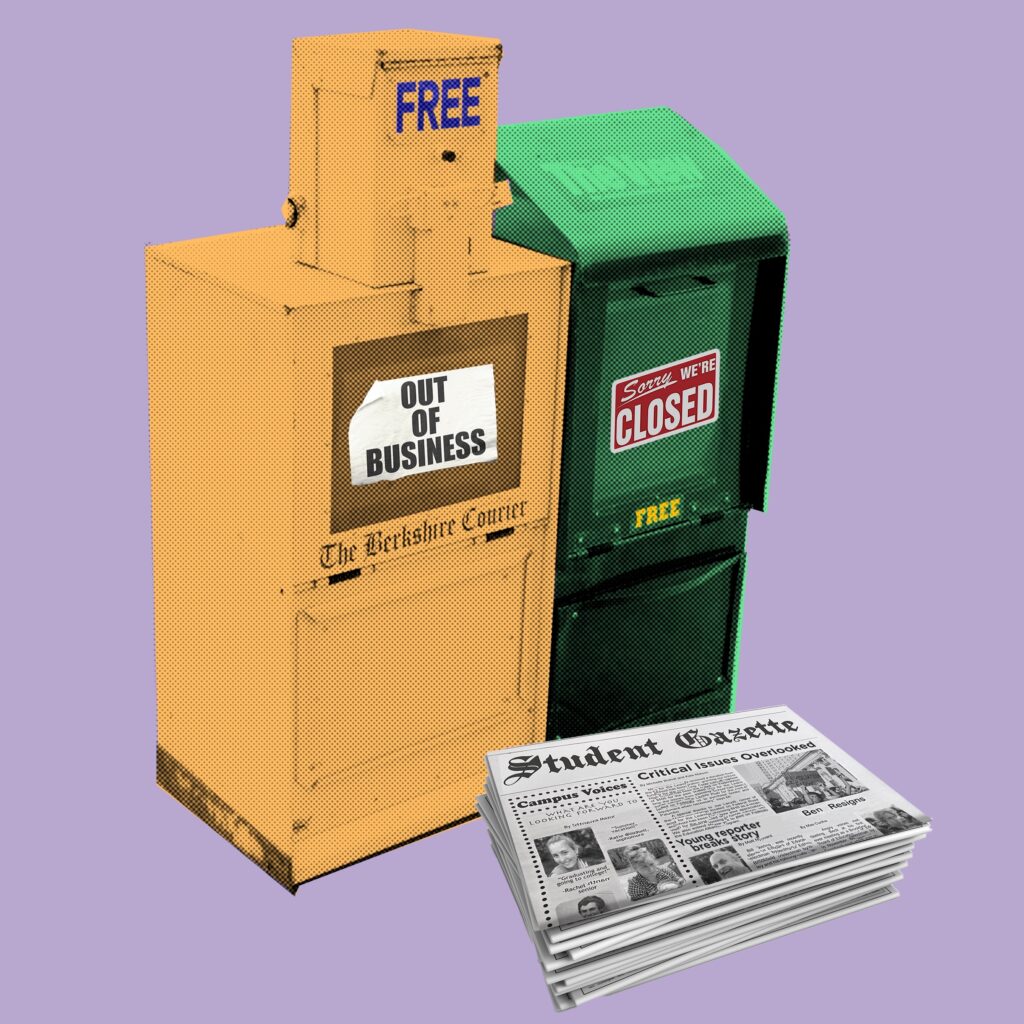 In its reporting, the Aquila broke down Covid case and death numbers on a county, state, and national level with interactive data visuals. In breaking down the staggering numbers, the paper highlighted racial disparities in the community to show how the pandemic was killing members of some races more frequently than others, even before national outlets began to pick up on the trends. The report also broke down California's political response to the pandemic at a time of extreme confusion.
The work isn't easy. At a time when most high schoolers just want to fit in, student investigative journalists often have to swim against the current, even if it means telling unpopular truths. Eliana Joftus, a reporter for the Black & White, took a major risk when she exposed toxic traditions underpinning "Vike-a-Thon," her school's annual fundraising dance.
The event was wildly popular among students and a a major source of money for the school. But, through her meticulous reporting, Joftus revealed something so urgent and so underreported that it was worth taking a stand. Her piece, titled "It's been 10 years too long. Vike-A-Thon needs to go," catalogues a disturbing trend of sexual assault, drug abuse and demeaning behavior among dance attendees.
"I knew it was going to be something that was very unpopular," Joftus said, "But these people never got to tell their stories."
Soon after Joftus' story ran, Whitman's principal canceled the event, citing her reporting as a factor in his decision.
"It was so clear how student journalism was important in that moment because it made change so quickly," Joftus said. "Every school has things that not everybody knows about"
In taking on such a major community institution, Joftus became a scapegoat for frustrated would-be attendees. At one point she considered writing the piece anonymously, but after interviewing the victims and putting the piece together, she felt she had no choice but to stand behind her reporting.
"People found a person to blame, and that person was me," Joftus said. "I went through a period of a lot of self doubt." Despite the backlash, Joftus is proud of the results of her reporting, and hopes others will follow in her footsteps.
"Every school has things that not everybody knows about," she said.
Joftus isn't the only Black & White reporter to shake up Whitman with hard-hitting investigative journalism. For months, a team of staff writers have covered an alleged pattern of sexual abuse by former social studies teacher and crew team coach Kirkland Shipley. While they may not have the experience or resources of the Washington Post, their hometown newspaper, they've managed to use their unique position as students reporting on their own school to break news in the case.
Jamie Forman, the Black & White's news editor, said she interviewed more than a dozen current and former crew team members to gather their first-hand experiences of alleged physical and mental abuse under Shipley's watch.
"News outlets were starting to cover it but they didn't cover the student perspective at all," Forman, also a member of the crew team, said. "My teammates and I were like, 'What about us?'"
Ethan Schenker, the Black & White's online editor-in-chief, picked up the story when the crew team's fall season was canceled after the news broke. Poking around the team's website, Schenker found the administration was grievously noncompliant with safety standards surrounding player-coach communications and sexual assault prevention.
Ultimately, the student journalists feel the school's response hasn't yet been strong enough — and they aren't going to let the administration off easy. Schenker was texting a source about recent developments in Shipley's court case. Their passion was evident and their drive undeniable.
"We've heard so many things that we couldn't write or we couldn't say," Schenker said. "We owe it to all the people whose stories we couldn't tell who've had similar experiences."
At Lyman High School in Longwood, FL, publication of the student yearbook was postponed after administrators objected to a spread documenting a student protest of the state's "Don't Say Gay" bill. Yearbook staff called the Student Press Law Center to report that administrators asked them to cover the spread with stickers. After a public campaign, the yearbook was published with a disclaimer sticker.
The censorship mirrored efforts at West Broward High School in Florida to prevent sales of its yearbook over content about the Black Lives Matter marches in 2020. Officials at Bigelow High School in Bigelow, Ark. ripped out their yearbook's 2020 timeline after it referenced events like the deaths of George Floyd and Supreme Court Justice Ruth Bader Ginsburg.
Backing up this new crop of talent is a nonprofit organization with the legal muscle to ensure robust protections from legal and administrative jeopardy. Founded in 1974, the Student Press Law Center promotes the rights of student newsrooms with legal resources, financial advice and educational programs.
In recent years, it has led a campaign to pass "New Voices" laws that would guarantee student newsrooms the same First Amendment speech protections as professional papers. The push aims to remedy a 1988 Supreme Court case, Hazelwood v. Kuhlmeier, which found that school administrators can halt publication of certain articles in student newspapers.
In May, Hawaii passed the "Hawaii Student Journalism Protection Act," which ensures only students can decide what runs in their school papers, and protects faculty advisors from retaliation. It is now the sixteenth state to pass such a law.
"Mahalo to the governor for signing this legislation and helping to send a message to all student journalists that the fourth estate is alive and well, and highly crucial to the bedrock of democracy," said Tiffany Edwards Hunt, an adviser to student papers at the University of Hawaii and Keaau Middle School in a press release.
Today's yearbook photographers and school paper beat writers are tomorrow's Pulitzer Prize finalists. For all the efforts to censor student voices, young journalists keep pumping out groundbreaking work documenting and investigating their school democracies. No administration has enough stickers or scissors to stop the power of young voices.