A version of this article was originally published in The Pathfinder, the student newspaper of Parkway West High School, in Ballwin, MO.
Where we come from — and in most places across the nation — student journalists are not guaranteed freedom of the press. Rather, young muckrakers have to rely on the good graces of the administrations to which we are beholden. It wasn't always this way, and it doesn't have to stay this way. Here at Parkway West High School in Ballwin, Missouri, we often remind ourselves of the precarious hold we have on this right as student journalists. If we lose touch with the value of a free press, then we risk succumbing to the threat, born in our own backyard, of the Hazelwood state.
The Pathfinder student newspaper began in 1968 — the year Parkway West opened its doors. Throughout our history, the paper has covered plenty of controversial topics, such as lack of diversity in our staff, gun violence, Islamophobia, and LGBTQ rights. While not every story has been widely-read, we write every piece with care and attention to detail. This is our responsibility as journalists, and as students of the Parkway School District.
Freedom of the press has not always been extended to student journalists, or even professional journalists at that. The Alien and Sedition Acts, approved just 11 years after the ratification of the Constitution, restricted newspapers' ability to publish certain criticisms of the government. During World War I, the Espionage Act restricted journalists' freedom during wartime. During the racial justice protests of 2020, the Committee to Protect Journalists found 125 freedom of the press violations across just three days as police suppressed reporters with violent tactics, including arrests.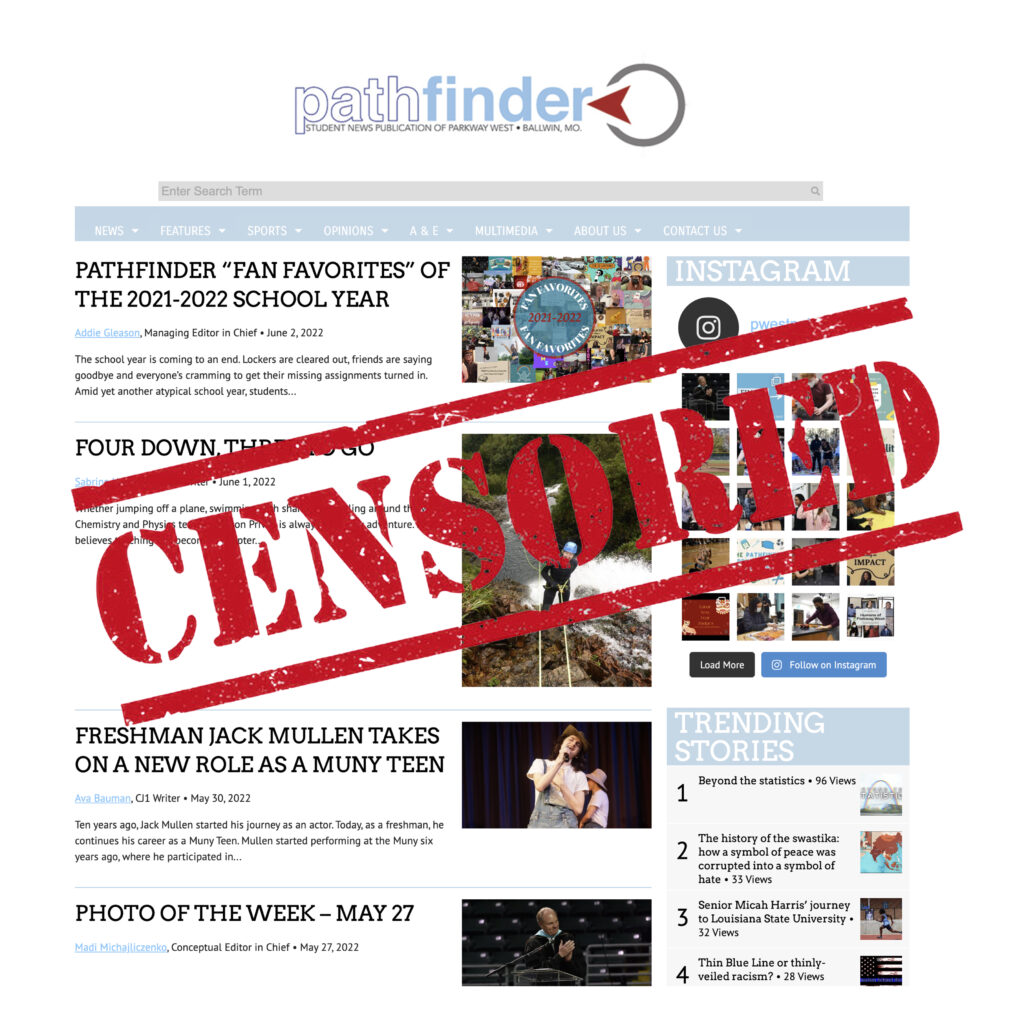 As student journalists in St. Louis, we're particularly interested in the infamous Supreme Court case Hazelwood v. Kuhlmeier. In 1983, the principal of Hazelwood East High School in St. Louis County prohibited two newspaper articles about abortion and divorce from being published. Student reporter Cathy Kuhlmeier argued that the action violated her First Amendment rights.
Five years later, the Supreme Court ruled in a 5-to-3 decision that student publications are not granted the same freedoms and protections as professional ones. As a result, high school and college publications in so-called "Hazelwood states" have become subject to censorship by their administrations. In short, the Court ruled that student publications were never intended to be public forums.
We disagree.
While the Pathfinder is billed as an educational experience, we are first and foremost a publication — a place for our staff to express their ideas and to share the stories of our community. We are grateful that our administration has allowed us to do so.
Feb. 24 marked the fifth annual Student Press Freedom Day, created by the Student Press Law Center to increase awareness of the struggles student journalists face and to celebrate their involvement in upholding press freedoms in their communities. There is a different theme each year, and this year's theme — "Unmute Yourself!" — encourages students to advocate for themselves and combat censorship in the media.
This Student Press Freedom Day, the Pathfinder reflected on what freedom of the press means to us, and why it is imperative that student reporters are allowed to tell the stories of our nation:
Addie Gleason, Opinions/A&E Editor
"Freedom of [the] press is very important because it has allowed me to speak out about issues that I care about and bring more awareness from a perspective that older generations might not be aware of. The press allows us to interact with one another and have open, respectful conversations about issues that we care about."
Elizabeth Franklin, Staff Writer
"Freedom of [the] press is important because I can write what I need to write, no matter the subject, without any repercussions or backlash from the government. Censorship won't help us tell the truths that need to be told, and I believe that freedom of press holds the government—and others—accountable."
Brinda Ambal, Conceptual Editor-in-Chief
"[Student press freedom has] given me so much confidence, compelled me to educate myself and offered me a sense of safety in representing the voices of those around me. Seeing the community light up or engage with [the] content we publish and having it lead to meaningful discussion is not always possible under restricted press rights, and I'm grateful that we have a great administration who supports freedom of the press in schools despite living in a Hazelwood state."
Leah Schroeder, Managing Editor-in-Chief
"I think that many people can learn from hearing opinions different from their own, so I am glad that we have the freedom to represent a variety of opinions within our publication."
Elle Rotter, Awards Coordinator
"It is important to get the most accurate information out when we are writing in journalism. If we are being censored, that may not always happen, so that's why it is a blessing to have freedom of [the] press as high school students. It's already a risky thing that we do — calling out actions of the school or bringing awareness to controversial topics — so being able to do that without being censored is an amazing freedom to have."
Ashlyn Gillespie, News and Sports Editor
"If there is something that I decide not enough people are talking about, I need the freedom to dive deep into the subject and show the world. [So,] having that drive to point out the not-so-obvious is contingent on having the freedom to do so."
Madi Michajliczenko, Staff Writer
"Freedom of the press allows students like us to bring light to important issues within the school, issues that may be swept under the rug to keep up the school's reputation. Without this freedom, important issues would be ignored and that ignorance would bring harm to those who need to be spoken about."
While states like California and Iowa have passed anti-Hazelwood legislation to limit censorship in student media, and bills have been introduced in others, including Missouri, the threat of censorship still looms. A student-led grassroots movement known as New Voices aims to protect free student press by proposing these bills in Hazelwood states, with recent successes in more than 20 states. Other organizations, such as the Student Press Law Center, have continued efforts to limit the impact of Hazelwood v. Kuhlmeier, and recently helped to pass a New Voices law in Hawaii on May 23.
However, free student press is not a given in many schools around the country. As long as the right to control the voices of school publications is codified, student journalists are never truly safe from suppression. We at Pathfinder are fortunate and grateful to have an administration that allows us to freely share our thoughts. We hope to continue to use our platform to advocate for student journalism as we share the stories of our community.