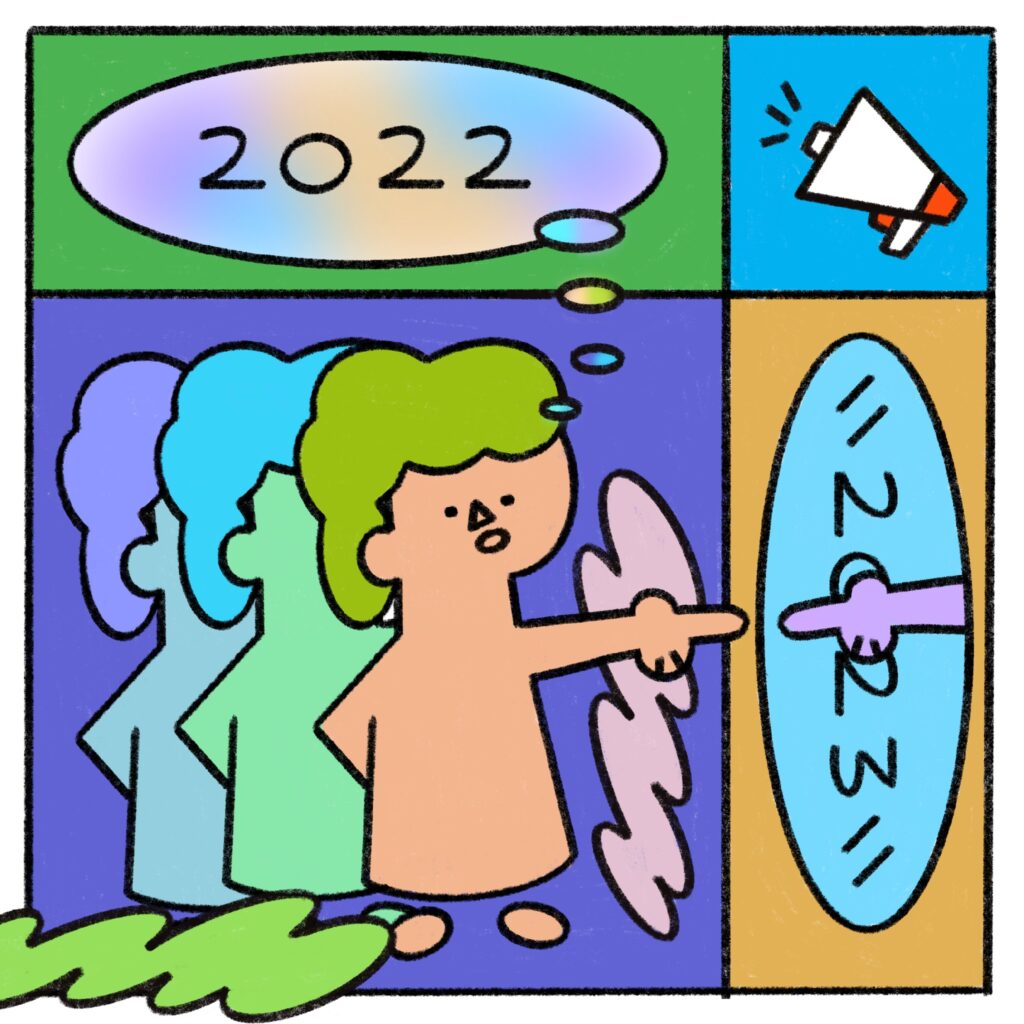 The midterm elections were among many headline-grabbing and zeitgiest-shifting events of 2022. Russia invaded Ukraine on February 24th, followed by the school massacre in Uvalde, Texas, on May 24th. June brought the Supreme Court decision to overturn Roe v. Wade, as well as the launch of the January 6th Congressional investigation into the 2021 attacks on the U.S. Capitol. In the final months of the year, leaders and citizens convened at the World Cup in Qatar and at the COP 27 climate conference in Egypt.
Many of these events brought heartache, some spurred progress, and all brought plot twists in a tumultuous year. Below we've collected eight speeches to help commemorate and make sense of our momentous recent history.
1. President Joe Biden
University of Delaware commencement speech
May 28, 2022
Returning to his alma mater, President Biden told students it's "no time to be on the sidelines" during what can "feel like a very dark moment in America," referencing the mass shootings in Buffalo and Uvalde, Texas.
"Your generation is the most generous, the most tolerant, the least prejudiced, the best-educated generation this nation has ever known. And that's a simple fact. And it's your generation, more than anyone else, who will have to answer the question, 'Who are we?' 'What do we stand for?' 'What do we believe?' 'Who will we be?'"
"No generation gets to choose what world they graduate into. None. But a few — a few generations enter at a point in history where they have the power to change the trajectory of a nation. And you can."
"I've always believed this nation can be defined by one word, as I said before: possibilities. It's still true today."
2. Chris Murphy
Speech following Uvalde school massacre
May 25, 2022
"But I'm here on this floor to beg, to literally get down on my hands and knees and beg my colleagues. Find a path forward here, work with us to find a way to pass laws that make this less likely. I understand my Republican colleagues will not agree to everything that I may support, but there is a common denominator that we can find.
There is a place where we can achieve agreement that may not guarantee that American never, ever again sees a mass shooting, that may not overnight cut in half the number of murders that happen in America. It will not solve the problem of American violence by itself. But by doing something, we at least stop sending this quiet message of endorsement to these killers, whose brains are breaking, who see the highest levels of government doing nothing, shooting after shooting.
What are we doing? Why are we here? What are we doing? I yield the floor."
3. Liz Cheney
Institute of Politics forum at Harvard Kennedy School
October 18, 2022
"None of us can be a bystander. We need every one of you. We need you involved and engaged. There's no more important thing you could be doing than helping to make sure that we right this ship of our democracy."
4. Adam Kinzinger
Jan 6 Closing Committee speech
July 21, 2022
"But if January 6th has reminded us of anything, I pray it has reminded us of this: laws are just words on paper. They mean nothing without public servants dedicated to the rule of law, and who are held accountable by a public that believes oaths matter more than party tribalism and the cheap thrill of scoring political points…
We the people must demand more of our politicians and ourselves. Oaths matter. Character matters. Truth matters. If we do not renew our faith and commitment to these principles, this great experiment of ours, our shining beacon on a hill, will not endure."
5. President Volodymyr Zelensky of Ukraine
Dec. 21, 2022
"This battle is not only for the territory, for this or another part of Europe. The battle is not only for life, freedom and security of Ukrainians or any other nation which Russia attempts to conquer. This struggle will define in what world our children and grandchildren will live, and then their children and grandchildren. It will define whether it will be a democracy of Ukrainians and for Americans — for all. This battle cannot be frozen or postponed. It cannot be ignored, hoping that the ocean or something else will provide a protection. From the United States to China, from Europe to Latin America, and from Africa to Australia, the world is too interconnected and interdependent to allow someone to stay aside and at the same time to feel safe when such a battle continues."
"So, let these decisions be taken. Let this flag stay with you, ladies and gentlemen. This flag is a symbol of our victory in this war. We stand, we fight and we will win because we are united — Ukraine, America and the entire free world."
6. António Guterres
November 8, 2022
"Friends,
The good news is that we know what to do and we have the financial and technological tools to get the job done.
It is time for nations to come together for implementation.
It is time for international solidarity across the board.
Solidarity that respects all human rights and guarantees a safe space for environmental defenders and all actors in society to contribute to our climate response. Let's not forget that the war on nature is in itself a massive violation of human rights."
7. Senator Bob Casey
Speech at the Senate Health, Education, Labor and Pensions Subcommittee on Children and Families
November 30, 2022
"Our Nation is facing a youth mental health crisis. At any given time, approximately one in five teens is struggling with a mental health condition. There is a greater need for youth mental health care than ever before in the wake of the COVID-19 pandemic, but many young people are not receiving care until far too late, if at all, because of gaps in our pediatric mental health care system. I am proud to have worked with Ranking Member Cassidy to make this issue a priority and introduce legislation to fill some of these gaps. While we have made strides in Congress to address the mental health crisis among our youngest Americans, it is clear that more work must be done."
8. Morgan Freeman
Speech at the World Cup Opening Ceremony
November 20, 2022
What unites us here in this moment is so much greater than what divides us. How can we make it last longer than just today?… We gather here as one big tribe and earth is the tent we all live in… In celebration, in hearing from our heroes through all the differences in language, there is a common thread of hope, jubilation and respect. We may or may not understand the words, but in the deepest part of us, we must understand and appreciate the emotions that connect us all.