We all know how trends love to make a comeback.
In the last few years, we've seen Gen Z recycle fashion trends of decades past, creating renewed appreciation and nostalgia on social media. It's exciting to see that all generations can share in the fun of different aesthetics. Unfortunately, not everything that's resurfaced is good.
Heroin chic was the late 90s trend on runways and in fashion magazines that targeted women and teen girls. It created an unhealthy glorification of being skinny at all costs, and led to increased awareness around eating disorders. That trend declined in the wake of women like Beyonce and Jennifer Lopez embracing their curves, and artists like Lizzo and Megan Thee Stallion continue to fight against it in today's body positive movement. However, it has found a new way to permeate the trends that appeal to Gen Z.
Social media and influencers now serve as the major authorities on what teens should consume, which makes Gen Z vulnerable to the growth in popular aesthetic trends online. Curated by social media algorithms from Tumblr to Instagram to Tik Tok, they push imagery for fashion and home decor, and spawn communities for those who gravitate to the same ones. You may have heard of ones like Cottagecore or Dark Academia. They each have their issues, but none so much as the early 2010s Tumblr birth of the Sad Girl.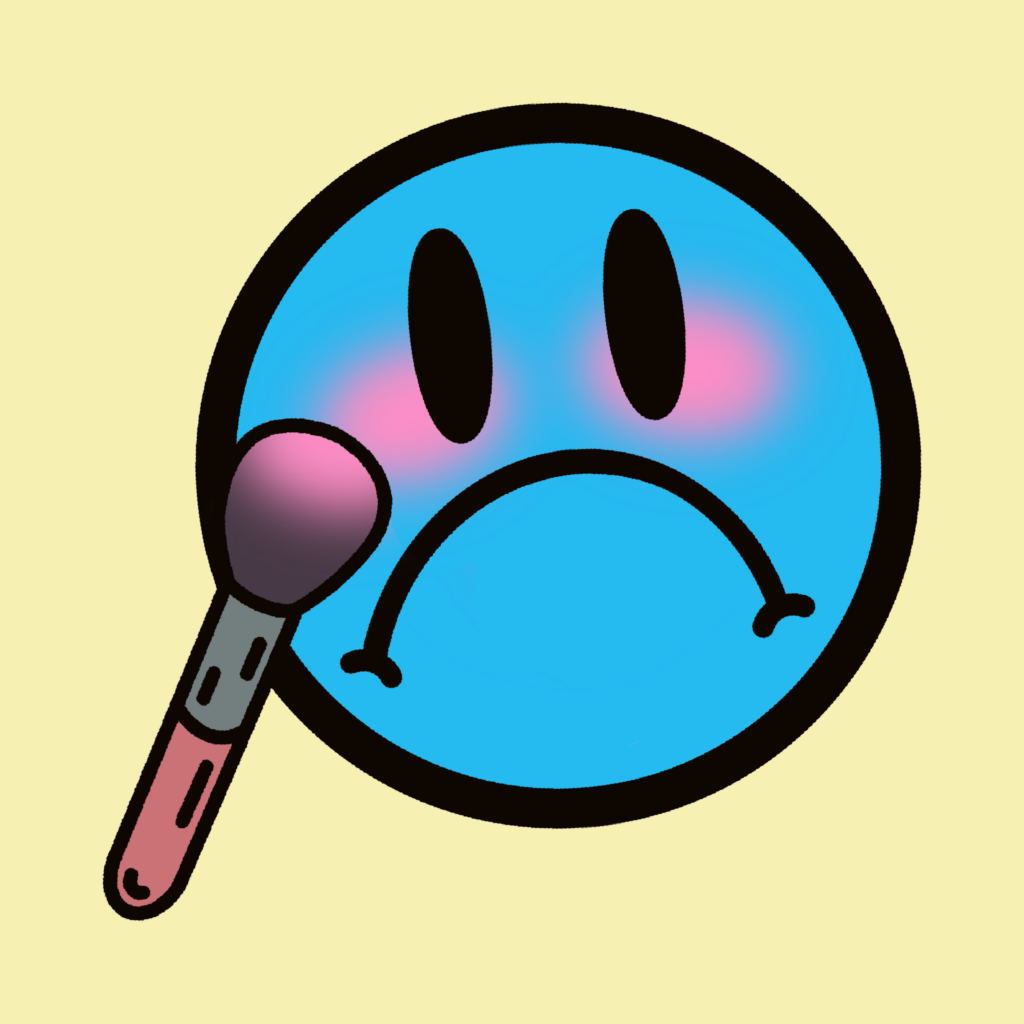 Similarly targeted towards teen girls and young women, Sad Girl Aesthetic is characterized by sadness, isolation, and – you guessed it – a heroin chic beauty standard from the photos to the captions. Its followers believe there's empowerment in women expressing their darkest feelings, which can be true in a society that still stigmatizes mental health and women's emotions. However, there is a major issue in the performance of those emotions vs. the actual experience of mental health issues amongst teens.
A 2015 HelloGiggles article noted that Sad Girls "have blurred the lines between those who latch onto the dark aesthetic photos popping up, and those who are struggling with mental illness and a deeper, more pervasive kind of sadness."
"It's not the entities within the culture that are particularly unhealthy; it's the use of these interests to create an aesthetic fad that utilizes the hallmarks of teen depression (or depression in general) while simultaneously (intentionally or not) parodying and alienating teens and young adults who are struggling with mental illness and find solace in identifying or creating the art that Sad Girls use purely for its cool cache," wrote Hannah May. "Even more disturbing than teens using depression to be cool is the possibility of companies marketing depression to those teens to make a quick buck."
Lauren Wright, a class of '23 senior at Wiregrass Ranch High School in Wesley Chapel, FL, noted that the desire to appear "tragically beautiful" a la the Sad Girl Aesthetic returned during the COVID-19 pandemic. "Depression, eating disorders, addiction, and anxiety are all major issues plaguing teens today without the added pressure of these issues being deemed "cool." Viewing and sharing messages online that depression is a "relatable" quirk rather than a harmful and curable illness can be damaging to impressionable teens," Wright wrote in October 2022.
Melody Gui at University of Southern California in Los Angeles, CA explained that the Sad Girl trope exists everywhere from Hollywood to literature to music, including a "sad girl starter pack" Spotify playlist and a "crying makeup" TikTok trend made popular by model Bella Hadid's crying selfies.
A 2022 Rappler article cited Fiona Apple, Lana del Rey, Lorde, and Billie Eilish in its list of sad girl pop music artists, known for "their detailed exploration of a variety of melancholic topics such as heartbreak, estranged relationships with parents, depression, addiction, and loneliness." Del Rey has often been criticized as one of the major proponents of this aesthetic with songs such as "Sad Girl" and "Pretty When You Cry."
Isabel Dorn at Lawrence University in Appleton, WI and Amber Levis at Harvard in Cambridge, MA both researched the trend's dangers, history, and inclusivity. "Simply put, the Sad Girl reeks of complacency," wrote Levis. "Yes, the sadness is visible through hashtags, but it is not in any way subversive; rather than challenging the systems that oppress her, the Sad Girl beautifies her suffering, and represents a very white kind of beauty." She later added, "And, of course, the commercialization of the Sad Girl has erased any kind of depth from her complicated identity."
Oftentimes people are so swept up in following trends that they fail to see how they're driven by consumerism. The social media algorithms that curate these aesthetics are linked to company accounts that sell outfits, accessories, and decor that make up the imagery being promoted. '90s diet, fitness, and fashion corporations benefited from the skinny standard, even at the risk of anorexia and bulimia. Today, they see continued financial gain at the risk of our mental health.
"Many express serious concerns about the return of these aesthetics on TikTok, particularly because that could mean the return of the romanticization of disordered eating and self-harm that was once prevalent on Tumblr," wrote Dartmouth College student Jessica Sun Li in 2023. "One TikTok user expressed their concerns with 2014 Tumblr nostalgia and reminded their audience that that era of the internet was actually a time with dangerous rhetoric surrounding racism, fatphobia and poor mental health support."
The Atlantic published an ongoing study in February 2023 detailing how "American teenagers—especially girls and kids who identify as lesbian, gay, bisexual, or questioning—are "engulfed" in historic rates of anxiety and sadness."
Writer Derek Thompson noted that this comes at a time when substance abuse, joblessness and poverty, and child hunger have largely declined. Yet, the CDC's Youth Risk Behavior Survey found that from 2011 to 2021, high school girls' reports of "persistent feelings of sadness or hopelessness" increased from 36% to 57%, "with the highest jump being during the coronavirus pandemic." Suicide ideation also increased by 50%. 70% of LGBTQIA+ teens reported those same feelings. Thompson theorized that causes could be social media, isolation from friends in COVID-19, the rise in mass shootings and other global crises, and changes in parenting. He concluded that we'll have to continue to monitor this as we put the pandemic behind us.
Donna St. George, Katherine Reynolds Lewis, and Lindsey Bever at The Washington Post published their own analysis following the CDC report. "The new report represents nothing short of a crisis in American girlhood. The findings have ramifications for a generation of young women who have endured an extraordinary level of sadness and sexual violence — and present uncharted territory for the health advocates, teachers, counselors and parents who are trying to help them," they wrote. "But high school girls are speaking out, too, about stresses that started before the pandemic — growing up in a social media culture, with impossible beauty standards, online hate, academic pressure, economic difficulties, self doubt and sexual violence. The isolation and upheaval of covid made it tougher still."
So how do we raise awareness and get help for teen girls who truly experience depression?
While there are self-care trends and mental health resources online, the fact remains that accessibility is a major issue for teens and underserved communities. Many are limited to what programs are offered by their schools or which local therapists are covered by health insurance. However, this doesn't mean teens should lose all hope.
Teens can empower themselves by starting campus mental health workshops with counselors or forming mental health support groups with fellow students. Sometimes the best way to find support is to create the safe space needed to build community and exchange resources. Local libraries and teen centers are great places to find support information, especially in conjunction with credible online sources. As teens work to strengthen their self-esteem and relationships with their peers, they can also build more resilience against unhealthy influences and trends. This way, teens can share in the ups and downs of their respective journeys toward healing, rather than a toxic aesthetic that simultaneously glorifies and trivializes their hardships.
In the case of the Sad Girl Aesthetic, some trends are just better left in the past.
To learn more about depression, visit Depression: What You Need to Know (for Teens) – Nemours KidsHealth.
If your or someone you know is struggling with suicide ideation, please visit the National Suicide Prevention Lifeline website, or call or text 988 for immediate help.