There's a new kid at school. They're cool with every clique and quick with an answer. ChatGPT has enrolled, everyone.
A kind of easygoing search engine, Open AI's new deep-learning bot functions much like your phone's autocomplete, and its word bank is the internet itself. Rather than helping you to spell "restaurant," though, it'll help you spell the entirety of your homework. "Chat" passed the bar exam in March, and has started to check off AP tests.
Chat arrives flanked by friends: Microsoft's "Sydney" has quietly walked the halls since 2021, and Google's "Bard" registered this March. The early consensus is that these sidekicks are pretty smart and cool too, but not as smart and cool as Chat—or as dangerous. New York City and D.C. public schools were among the first to expel ChatGPT from school altogether.
It's a mistake. The very industries students will pursue have already embraced the technology and will look for familiarity as they welcome their next generation of contributors. 
Humans still do what the bots can't: think critically, decide ethically, and vet for detailed accuracy. Productivity means having your Chat and checking it, too—for schools stretched thin, the potential partnership is even more critical.
Educators, welcome ChatGPT into your classroom. Your new favorite T.A. is here.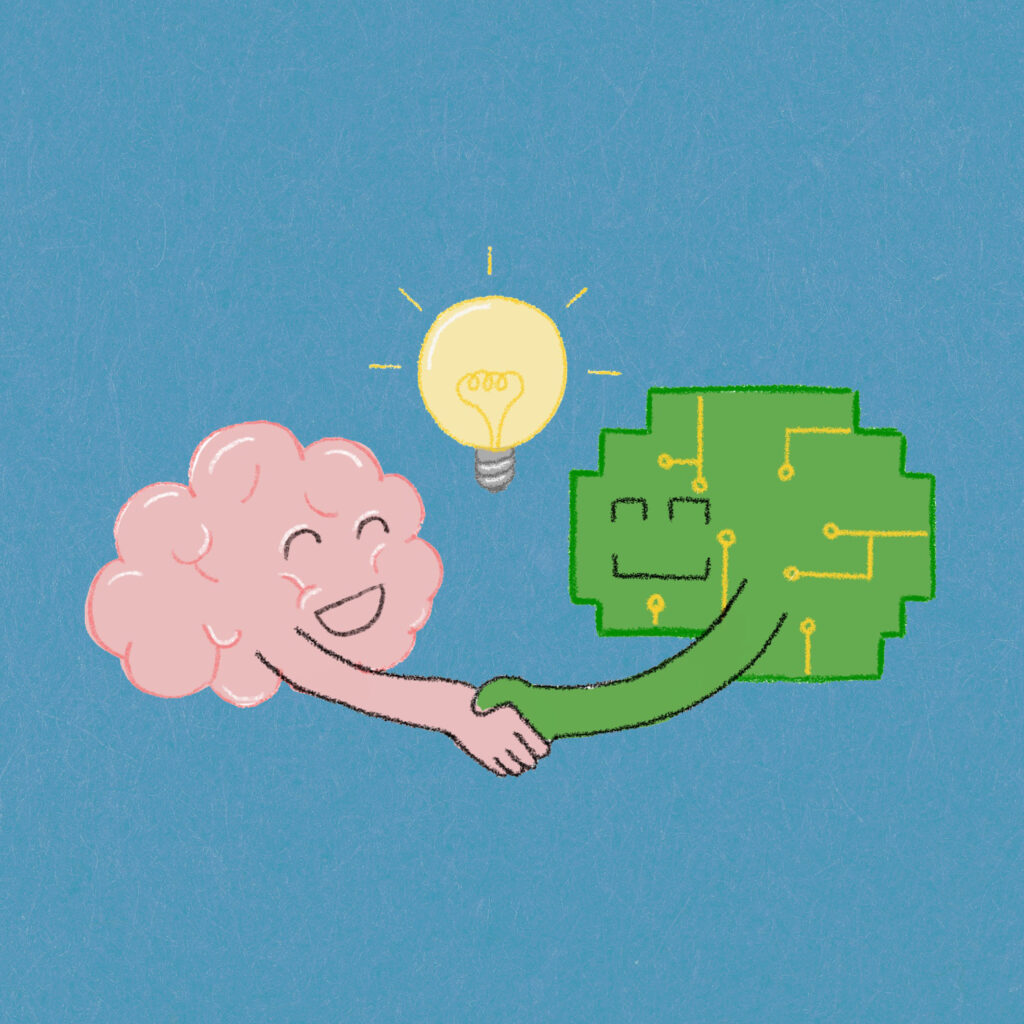 Not all educators are rejecting the bots. ChatGPT is, well, chatty. With a class of talkative kids, an experienced teacher will rarely aim for silence. The more effective practice is to shape the conversation.
Some of the teachers who have tested the tech are building a burgeoning community online, sharing their eureka moments in which the exasperations of teaching began to recede with Chat's help.
The bot will reduce educators' workload by drafting lesson plans, quiz questions, and class examples. It'll generate historical narratives for social studies students to critique, or carry on conversational Spanish, French, or Mandarin. It'll explain and offer snippets of code in Computer Science class. Industry programmers, too, are already quickening their work with ChatGPT's assistance.
Writing teachers have the most reason to celebrate, though, even as they see reason to mourn. The project-based learning English educators have always wanted the time to create is no longer a tall tale. ChatGPT will generate a dozen different writing prompts about a novel on command. Ask it to add a character to the plot, and then have students analyze the new effects on the theme.
For a nonfiction and rhetoric unit, Chat will plan activities for a group of students acting as an ad agency. Next, it'll create challenges for speechwriters during an election project. Creative writing teachers can use ChatGPT to generate genre-based short stories. Together, the class expands with greater detail and appraises new ways to subvert tropes.
Student journalists and advisers should welcome Chat to their newsrooms, following The Associated Press who, in 2015, used A.I. to auto-generate earnings report summaries, and then in 2018, to draft March Madness game previews. Local news in tatters, the functioning student newsrooms that still exist would benefit from the productivity boost as much as the underexamined communities they aspire to cover.
Just ask Chat to "draft a game recap," and as other media do, disclose the assist. A student reporter interviews players, fills in the appropriate quotes, checks for clarity, and continues working on other, more challenging stories instead. In queue are a feature about the team's season and a long-term investigation of concussion protocol in the district.
There are tradeoffs to the technology. Until districts can implement a more permanent plan to disincentivize cheating, checking for students' understanding accurately will require lockdown browsers and active oversight from teachers.
Proactivity helps, too. All of those involved in secondary education, from parents and teachers to college admissions officers, it's time to rethink how packed our students' schedules are. Curbing the overuse of bots like ChatGPT will require a new level of focused interest and engagement for students. Before they can settle into intrinsic motivation, they have to feel comfortable shedding the five AP classes they don't actually care about, and keeping only two. They have to know they can cancel that second internship. They may even need fewer classes on their schedule at one time.
Responsibility also falls on OpenAI and other companies in deep-learning software development to ensure both privacy and that, if a district is willing to allow ChatGPT, all students have equal access either for free or at a reduced fee. OpenAI unveiled "GPT-4" in March, a pay-only tier that amplifies the skill sets users may tap. That's another widening of the achievement gap. And if the software is failing to reach all students in a district, what better reason is there to leverage it for all its worth than the reality of the widening danger if we delay?
It's not difficult to imagine a time when the A.I. clique begins finishing our sentences before we even think them. Linguists doubt the moment will come. Science fiction writers are less optimistic.
For now, the new crew shows potential. Put its members and the rest of the class to the test when they do the unthinkable and work to advance one another's work. It's the first lesson of school: cooperation.