"That day we started off with an active-shooter drill, believe it not," Jeff Foster said as he recounts the tragic events of February 14, 2018 at Marjory Stoneman Douglas High School. For most American students, these lockdown drills have become commonplace. Protocols like "Run, Hide, Fight," remind them of the distant — but not nonexistent — chance that their life could end in a classroom.
That distant chance became a harrowing reality for MSD when Nikolas Cruz walked into the school with a loaded AR-15 rifle. The teen killed 17 people that day, sending the quiet, suburban town of Parkland, Florida into harrowing disarray.
The seeds of outrage are typically borne from feelings of shock or disbelief. Then comes indignation; an anger with the conditions that have allowed injustice to flourish – not only is the grievance unconscionable, but, now, action must be taken. And in the following days of the shooting, the courageous students of MSD did just that, funneling their outrage into a series of anti-gun protests — all with the help of their fast-talking AP Government teacher, Jeff Foster.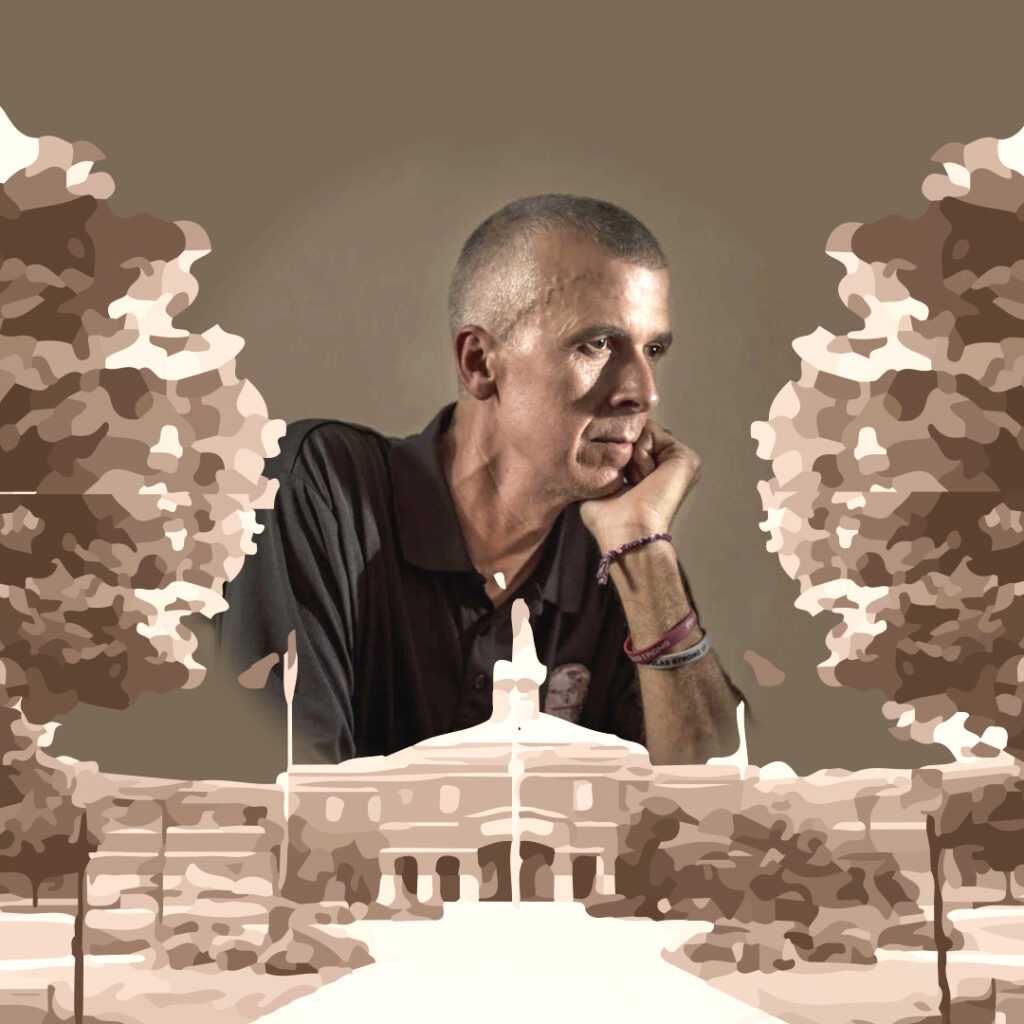 Together, the students created March For Our Lives, a movement that would snowball into one of the largest youth-led demonstrations in American memory.
"They took the material I taught them to a place I never could've imagined," Foster said, recalling former students X Gonzáles, David Hogg, and their peers.
The Parkland teens refused the familiar "thoughts and prayers" response from lawmakers, forging their own political movement and, in the process, challenging the idea of what such a movement could accomplish. For the young activists, the status quo was no longer tenable, and with their teacher standing behind them, they sought to rewrite the script.
Jeff never expected to teach the powerhouses of tomorrow. With a background in Marketing and Finance, he never even planned to become a teacher. In fact, he'd held a variety of jobs upon graduating from Florida State University – working in sales, advertising, and even bar management. But it wasn't until he started freelancing as a substitute that he realized his calling. After gaining accreditation from Barry University in Miami Shores, Foster took the helm of MSD's rigorous AP Government program.
Despite the difficulty of his class, the 47-year-old educator is a beloved figure. This is due, in part, to his impartiality. As a registered Republican who often votes for the "opposing" side, he encourages a politically diverse classroom – a refreshing break from our otherwise divisive politics. Rather than attempt to sway his students' views, he works to present information and statistics matter-of-factly, allowing them to develop opinions for themselves. Foster's flexibility allows kids of all beliefs and backgrounds to feel included, heard, and empowered to be agents of change.
For students like Isabella Carrero and Sophia De Pena, AP Gov is a safe space of sorts, a place for candid conversations. Despite holding differing views, the two are able to discuss big-issue policies with rare frankness and authenticity.
"We're not the same, politically, at all," De Pena said. "But, you know, we're able to talk and discuss the same ideas, it doesn't become this vicious thing, it's never a negative discussion."
"We share a similar home life, so it's interesting to see how we've both grown from that perspective, and how we've developed our own beliefs and ideas," she added.
Foster is also full of charisma – he is relatable, personable, and known for his disarming wit. Notwithstanding the difficulty of AP Gov, he presents the course, sprinkled with humorous anecdotes, in a manner that is both accessible and informative. When you enter his classroom, you enter an environment in which your agency and competency are acknowledged and celebrated. Put simply, he sees his students; understanding them as dynamic individuals who are shaping the future.
"He treats us like humans," Alya Abufele, a current student in Foster's class, said.
As an immigrant, politics had always been at the forefront of Alya's life, but the interest was doubly fortified in Foster's class. He was a staunch supporter of her citizenship process, even accompanying her and a few other students to exercise their newfound right to vote.
"Gen Z's involvement is very important," she said. "I'm inclined to learn more about civic issues because I've realized how much policy affects me."
This is a generation engulfed in a rising political tide, utilizing TikTok, Twitter, and Instagram as vehicles for organizing and informing.
"The advent of more technologies has allowed us to gain more information, process things, and really keep us up to date on everything," said fellow student Quinn NcCluskey.
"And Mr. Foster really encourages us to build on our civic knowledge," he added. "He's like, "Hey, go out and make your voice heard. Make sure you know you can change what's in these textbooks.""
Again and again, Jeff tells his class, "You can't complain if you don't participate." And students like Isabella, Sophia, Alya, and Quinn take it to heart. They are hungry for solutions and refuse to be satiated by stale rhetoric. From their can-do attitudes, it's apparent that the teacher's mission to galvanize didn't end with the March For Our Lives group. In fact, according to him — and statistics — the national fight over guns is far from over.
"Despite the roughly 2 million people who turned out for a march in Washington D.C., and the 700 sibling marches held around the world, there have been 47 mass shootings since the Parkland tragedy. That totals to 628 victims. As Foster and his students see it, reform shouldn't be an afterthought — and yet, lawmakers have failed to pass significant gun restrictions."
Jeff Foster, however, is unwavering in his mission to inform and empower his students. Behind flames of change like David and X (and now, Alya, Quinn, Sophia, and Isabella) are people like him, those who stoke and nurture the inferno of this generation's righteous rage. A well-informed group is a fearless one, and Gen Z's activism has all the makings of a revolution.
"It's incumbent on us to participate," Jeff firmly states. "We can't allow others to make decisions for us. We can't just sit back, watch, and be angry. The worst thing you can be is apathetic."