Joe Biden has officially announced he will be running for a second term in 2024. Before campaigning begins in earnest, I want to urge him and his team to seriously consider an often under-utilized element of election season: the campaign anthem.
Whether it be blasting through the speakers of an arena during a rally or underscoring a television advertisement, the campaign song is an easy way to generate excitement for a candidate. Music is a common language. If candidates can select the right song, they grant supporters an easy way to voice their support through song.
Campaign anthems have been present in nearly every U.S. election leaving plenty of room for both successes and failures. Here's seven musical moments from campaign history that the Biden team should look to while deciding the soundtrack to "finish the job."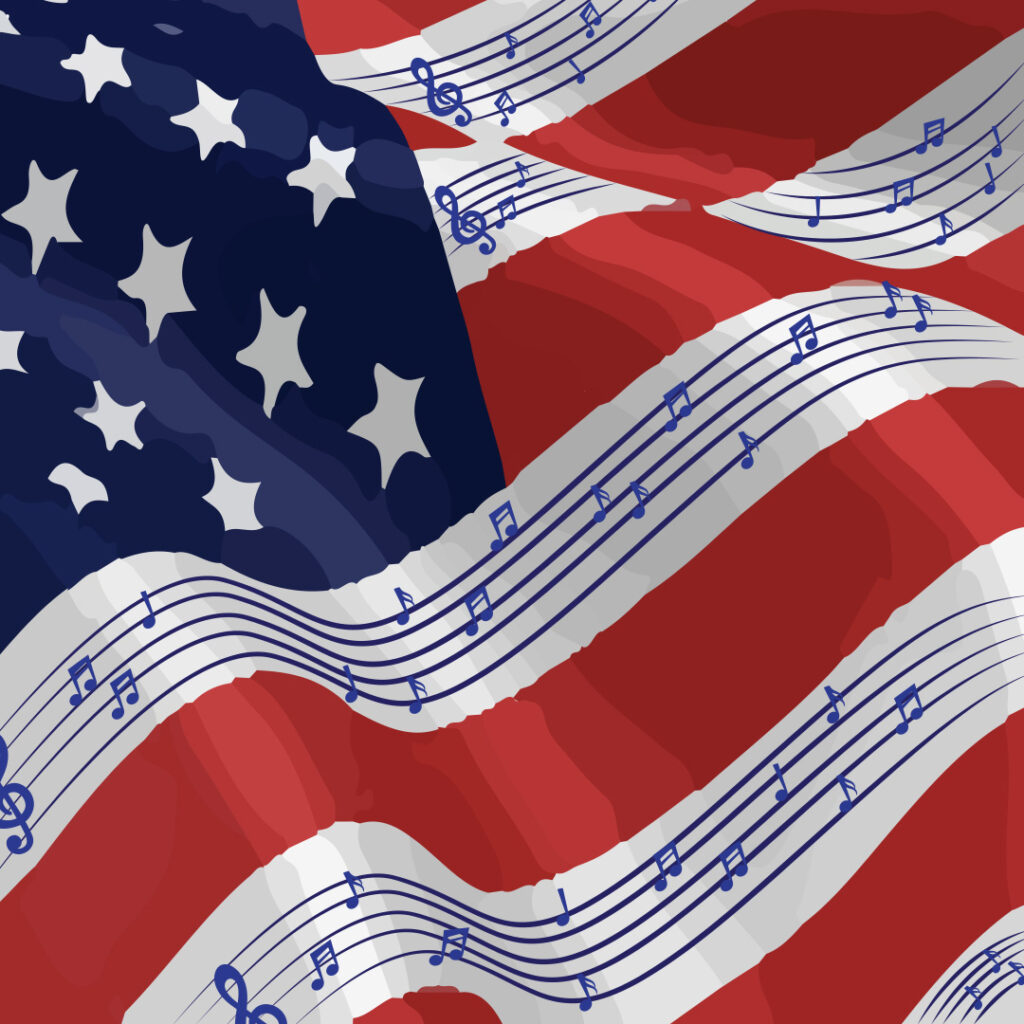 George Washington
Though George Washington himself did not campaign for his term as the United States' first president, that didn't stop his supporters and followers from independent efforts to generate buzz for the Revolutionary War Hero. Amongst these was what can be considered America's first campaign anthem: "God Save Great Washington."
"God Save Great Washington" works double duty as both a campaign anthem and parody. Musically, the song is strikingly similar to the British national anthem "God Save the King" (or "Queen" as we knew it until Queen Elizabeth II's recent death) Though sung versions of the song are hard to come by, according to Time its lyrics simply replaced all instances of "King" with "Washington."
"God Save Great Washington" is a rejection of King George III and a celebration of the United States' newly claimed sovereignty. With Washington emerging as the nation's leader, it's only natural that the Americans sought to celebrate him at the expense of their former King.
FDR
Another historic example, Franklin Roosevelt proves that the campaign anthem isn't a modern invention. In the 1932 presidential election, Roosevelt's campaign team launched "Row, Row, Row with Roosevelt," a take on the classic nursery rhyme "Row, Row, Row your Boat."
"Row, Row, Row with Roosevelt" is a fun ditty that encourages voters to "Sail with Franklin D. to victory and to real prosperity." It highlights Roosevelt's strengths as a political figure and even calls on his familial connection to previous president Theodore Roosevelt.
In terms of parody anthems, it's always a safe option to go with a song everyone knows and "Row, Row, Row with Roosevelt" does just that. Though there are definitely other pressing factors that contributed to Roosevelt's victory over Hoover, I like to imagine that "Row, Row, Row with Roosevelt" at least played a small part in securing his electoral votes.
Barack Obama
With the classic "HOPE" poster in his arsenal, 44th president Barack Obama is no stranger to iconic campaign moments. Therefore, it's no surprise that he had the perfect song selected to be his campaign anthem.
His 2008 presidential campaign was backed by Stevie Wonder's hit "Signed, Sealed, Delivered." As declared by the chorus, both voters and Obama are placing their futures in each others' hands, but "signed, sealed, delivered" Obama would ultimately be a president for the people.
At his Inaugural Ball, Obama revisited Wonder's classic performed by a chorus of A-Listers including Beyonce, Will.I.Am, Mariah Carey, Shakira, Maroon 5, Mary J Blige, Faith Hill, Sting, and Wonder himself. Certainly, this moment solidified "Signed, Sealed, Delivered" as one of the greats amongst campaign anthems.
Donald Trump
Music is likely a sensitive subject for the managers of Donald Trump's 2016 campaign. Trump attempted to feature several classics such as Adele's "Rolling in the Deep" and Aerosmith's "Dream On" at campaign events and rallies, though was inevitably met with cease-and-desist letters from the artists' legal teams.
To avoid further legal troubles, the Trump team then turned to live performance. Perhaps the most iconic outcome of this was when he hired the USA Freedom Kids to perform their original song "Freedom's Call" at a rally in Florida in 2016. Based in Florida, the USA Freedom Kids is a patriotic performance group composed of five girls, two of whom only recorded vocals.
Ironically, the Trump campaign still wound up with legal troubles after the group sued in September 2016 over their inability to sell merchandise at rallies and promised opportunities for future performances that never came to fruition. Ultimately, the USA Freedom Kids dropped the suit.
Despite performing for Trump, the group is actually non-partisan and lended their talents to Biden's campaign in 2020 with a re-recorded version of "Freedom's Call." Regardless of which campaign slogan is featured in the lyrics, "Freedom's Call" is a catchy tune and it's hard to stop yourself from humming the melody after hearing it again.
John McCain
While Trump's usage of popular music on the campaign trail was put to a stop through legal avenues, other politicians have encountered economic barriers. While running for president in 2008, former Arizona Senator John McCain branded himself as an ABBA "super fan" and even attempted to turn their 1978 single "Take a Chance on Me" into the anthem of his campaign.
McCain reportedly decided not to "take a chance" with ABBA as the rights to the song would ultimately be far more demanding on the campaign budget than originally anticipated. Still, you've got to give the man credit for trying.
The Swedish pop group will always be a crowd pleaser. If McCain wasn't able to tap into their discography for their campaign, then maybe one day a candidate will come along that can work with ABBA to bring them to the campaign arena.
Hillary Clinton
There was no better timing than the launching of Hillary Clinton's campaign and the release of Rachel Platten's "Fight Song." "Fight Song" dominated the charts as a feminist anthem of resistance and strength. There couldn't be a more apt pick for the Democratic National Convention's first female party nominee.
On the campaign trail, Hillary Clinton and her supporters embraced the "Fight Song" spirit throughout the campaign. Before elections in October, the DNC even organized an a capella performance of Clinton's anthem featuring the cast of the Pitch Perfect series.
Not everyone supports the tying of "Fight Song" to Clinton's campaign, however. Following Clinton's loss in October, Platten expressed her regrets that "Fight Song" had become so synonymous with Clinton. Platten's experience with "Fight Song" reveals the downside of allowing your hit to become a political campaign. After all is said and done, it's hard to "take back your life song" and disentangle it from political associations.
Although this campaign is entirely fictional, I couldn't not include the iconic musical moment from Pawnee, Indiana on this list. In Season 4 of Parks and Recreation, an earnest Leslie Knope (played brilliantly by Amy Poehler) launches her mayoral campaign. Aided by her coworkers from the Parks department, she hosts a campaign event at a local ice rink. Unfortunately, the red carpet the team rented to create a path across the ice fails to reach the stage and they are left to clumsily shuffle the rest of the way.
As Leslie and co. stumble across the ice to the stage, Gloria Estefan's "Get On Your Feet" plays over the ice rink's sound system. While "Get On Your Feet" with its upbeat rhythm and inviting lyrics make it an excellent pick for any campaign, its effectiveness is undercut (and hilarity intensified) as Leslie and her friends fail to do what the lyrics tell their audiences to do.
Though "powerful" isn't necessarily the word I'd use to describe this musical moment, it is definitely memorable and cements Parks and Rec as a master of creating comedy out of political absurdity.